BOUND BY NIGHT




BOUND BY BLOOD
BOUND BY NIGHT
NEW YORK TIMES BESTSELLER
USA Today Bestseller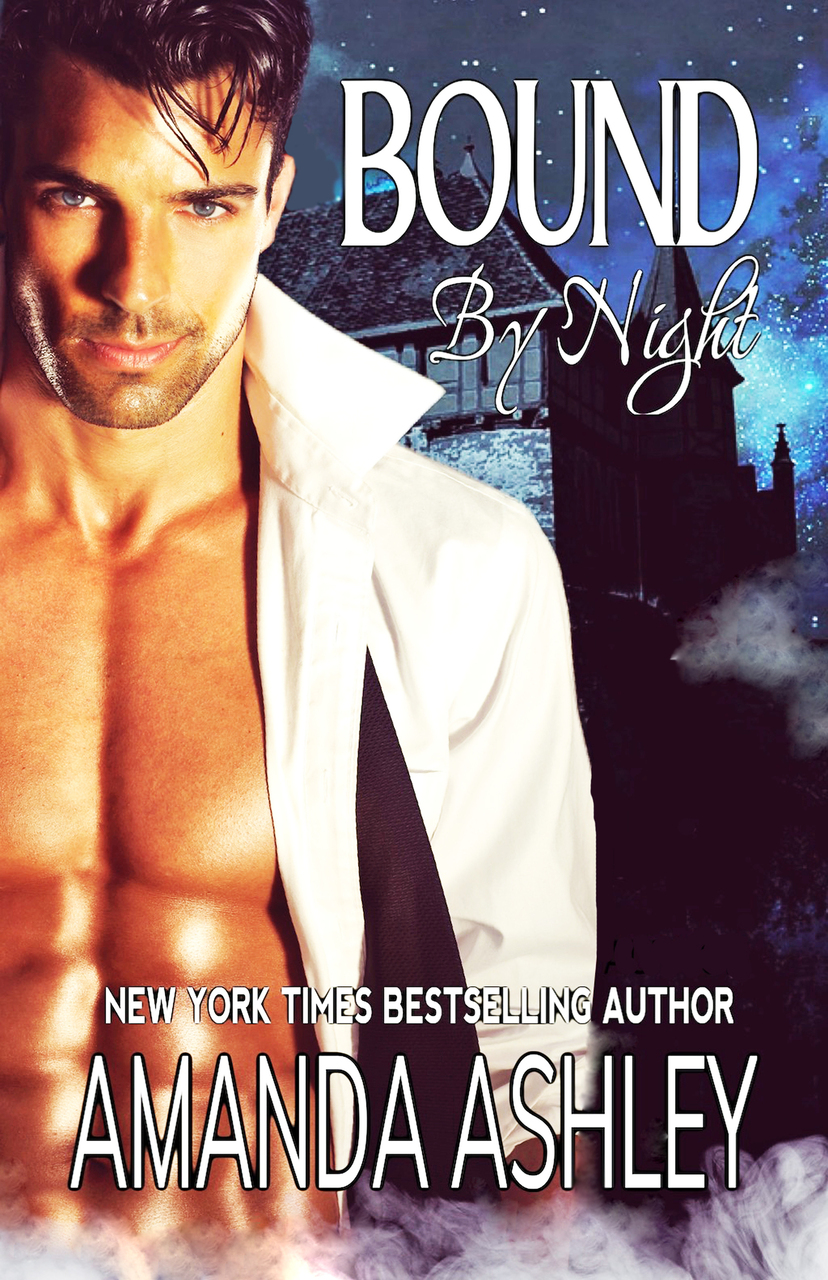 A VAMPIRE'S KISS IS FOREVER…

Once featured in a horror movie, the crumbling Wolfram estate is said to be haunted by ghosts, witches, and worse. But Elena doesn't believe a word of it—until she spends the night and wakes up in the arms of a compelling stranger…

Tall, dark, and disturbingly handsome, Drake is the most beautiful man Elena has ever seen. For centuries, he has lived alone, and Elena is the first woman to enter his lair—and survive. And Drake is the first man to touch her heart and soul. By the time she discovers who he really is—and what he craves—it's too late. Blood lust has turned to love, and Elena is deeply under Drake's spell. But forever comes at a price for each of them.
Prologue

His favorite lair was in the remains of a castle that had been built only a few years before he had been turned. He came back every thirty years or so, whenever the noise and the smell and the busyness of modern life became more than he could bear. He much preferred the life he had once known, before the advent of cell phones and iPods, a time when life had been slower, simpler. There had been a beauty to those days long gone, a grace that was missing now. An innocence that could not be restored, and sorely missed.

But Wolfram Castle remained, exactly the same as it had always been. It was an impressive structure, rectangular with round turrets at three corners and a high, arched entrance. Battlements edged the flat roof. A barbican surrounded the building. The single entrance, flanked by two towers, faced the rising sun. Stone steps, many of them broken, led to the imposing entrance. The outbuildings, save for a large stable in sore need of a new roof, had been destroyed long since.

The ground floor of the castle housed the kitchen and storerooms; the main hall occupied the first floor, along with several smaller rooms, including a garderobe and a bathing chamber, as well as quarters in the rear that had once housed the servants. The chambers on the upper floor had been used exclusively by the Wolfram family.

Drake had purchased the castle and the surrounding acreage from Thomas Wolfram, the last of the Wolfram line, over four hundred years ago. In this day of malls and superstores and housing tracts, holding on to the land had been no easy task, but a good lawyer, and a bit of supernatural magic, had ensured that the castle, the ground it sat on, and the meadow below, would be his as long as he lived.

Standing in the pouring rain, Drake ran his hand over one of the ancient walls. Even though the castle was inanimate, he felt a kinship with it, for they had both endured much in the course of their long existence.
He had survived angry villagers eager to burn him alive; the king's guards, who had desired his head on a pike; pious minions of the Church who had hoped to redeem his soul before they drove a sharp wooden stake through his heart; mercenaries who wanted to sell vials of his blood to the highest bidder.

The castle had been ravaged by fire and flood, pummeled by rain and hail, struck by lightning, buried in an avalanche, and yet both he and the castle remained, still strong and nearly indestructible.

On rare occasions, he had thought of tearing the place down and building something more contemporary, but it had been a favorite retreat of his for centuries. Destroying the castle would be like destroying a part of himself.

He grunted softly. Maybe ending his existence wouldn't be such a bad idea. Perhaps he would find peace in true death. He might even find forgiveness. At the least, he would find an end to his hellish thirst, to the loneliness that could never be assuaged by brief encounters with nameless women. An end to watching the rest of the world change and develop while he remained forever the same. Best of all, it would put an end to what was expected of him.

He shook all thought so self-destruction away. Suicide was a cowardly thing to do. Perhaps it was time to go to ground, to rest for a hundred years or so. When he awoke, the world would have changed. There would be new things to see, to learn, a whole new world to explore.
He gazed into the distance. Dark clouds hovered low in the sky, spitting rain and lightning. There was little to see in this part of the country save for the castle, and a small township at the foot of the mountain. A movie company had used the town as the backdrop for a horror movie that had, to everyone's surprise, become a worldwide phenomenon. Since then, tourists had come from all over the world to take pictures and buy souvenirs and pretend, for a day or two, that they were part of that fictional world.

He shook his head. He had little interest in movies, but the tourists who wandered throughout Romania looking for Dracula made for easy pickings. The rain would keep most of them inside on a night like this, but there were always an adventurous few who were willing to brave the elements in search of excitement.

He smiled inwardly as the hunger rose up within him, and with it, the urge to hunt. Any tourists out looking for a thrill tonight would find more than they bargained for.

Trying to decide which vampire novel to read? Pick one by a veteran, a pro, a master of her craft. Amanda Ashley writes circles around most scriveners, and I'm a long-time, card-carrying fan. If you want vampire romance by an author who's written just about every kind of romance novel there is, (it's the romance that counts, after all,) do not miss BOUND BY NIGHT by Amanda Ashley. Vampire romance the way it's supposed to be written!
Maggie Shayne
TWILIGHT PROPHECY
April 2011
ROMANTIC TIMES
BOOK REVIEWS
4 1/2 Stars
TOP PICK

Bound by Night is absolutely everything a vampire romance should be. A classic tale with an old-world setting and love powerful enough to awake centuries of passion forgotten. Ashley skillfully creates a world both familiar and ancient, with characters you'll want to live happily ever after, especially if it lasts an eternity.

Wolfram Estate is said to be haunted. It appears to have been deserted for years. Out of desperation, Elena must run away and the only place she can hide is the castle she fears. No one has dared to enter Drake's estate for decades, nor dared to win Elena's heart and soul. Together, they will find a great passion. When Elena discovers who Drake really is, it's too late. Bloodlust has turned to love and passion for them, but there is a heavy price to pay.
Teri Dukes

REVIEWS FOR BOUND BY NIGHT

BITTEN BY BOOKS SAID:
A frightened and naïve young woman and a world-weary vampire come together in an ancient castle and both will be changed forever. As an orphaned child, Elena was sent from the United States to live with her aunt and uncle in an isolated Romanian village. Her childhood was placid, but when her aunt died, her uncle's attention become a bit too personal and smothering. After the disappearance of her cousin, Elena was left alone with him. His intentions become horrifyingly clear and she was forced to run away.

Living far from civilization, she ran to Wolfram Castle, thought to be empty and haunted, and perhaps in a sense it was. Drake Sherrod, vampire and eldest son of a Master of the Coven, was in residence looking for peace and purpose. His purpose, he discovered, was to love Elena. Together, they would have to overcome prejudices, centuries of hide-bound thinking, and treachery.

Bound by Night is a book of high romance and suspense. Elena and Drake are locked into separate cultures, and as they try to break the chains (literally in Drake's case), violence and treachery stalk each of them individually. Amanda Ashley has created an exciting story of born vampires and their struggles in reconciling their centuries-old culture to a contemporary world. The romance is sublime and sizzling, and the tension is lip-biting. Elena and Drake's romance is one to sigh over.


* * * * *
Amanda Ashley delivers the goods to paranormal fans in this the first of a 2-part series to be released in September and October 2011! A must pre-order! You will not be able to put this book down once you start! Cover to cover, a taste of suspence, a challenge to survive for the love of a lifetime, duties and obligations. In a modern-times story Elena and Drake find themselves caught between old-world tradition and a will of their own. A twist on the usual vampire tale! Romance and shadows, betrayal and loyalty and love everlasting!
Bukgoddess
* * * * *
Sidhe Vicious said
I really enjoyed Elena and Drake's story. Amanda Ashley writes a vampire romance that is reminiscent of the old school vampire romances and it's great to be able to remember what made me fall in love with the genre to begin with! Elena is a little bit naive for a twenty year old in today's day and age, but she was sweet, and Drake is a 500-year-old vampire with old world charm. I loved a lot of the elements that the author brought into play with the abilities of the vampires and in the world-building of the vampires coven. And does Amanda have to write so many sexy vampires? Seriously, I want one of those brothers for myself! *Grins*
The details of them living in Wolfram Castle were fun for me to read as I've always been fascinated by Castle's and what it must have been like to live in one. An interesting mix of the old with the new and a grand love story made for a good read. A truly heinous uncle, some big scary vamps and a collection of interesting secondary characters rounded out the story. I'm looking forward to reading Kaitlyn & Zachary's story in Bound By Blood which will be out in October.
* * * * *
My Overstuffed Bookshelf said:
5 stars
Author Amanda Ashley has done it again. She has swept me back into the world of Vampire Romance in its true form. She takes the root of Vampire Paranormal Romance and puts it into a story to captivate the reader.
I loved the characters of Drake and Elena. While Elena was pure and innocent, Drake was her balance in danger and mystery. After living with her drunk Uncle, Elana flees to the castle called Wolfram Estate on the hill. She has heard numerous stories of it being haunted and abandoned, but she feels she has no choice to hide away in the castle and leave the abuse of her Uncle. She discovers that the house indeed has someone living there and he is the most gorgeous man she has ever seen.
Drake has lived for a long time and humans barely interest him anymore except for nourishment. Yet when he sees the lovely Elena at his castle, he is intrigued by her. He develops feelings for her that he has never felt before. Even though he is suppose to marry another woman to secure his rightful place in the Vampire Royalty, he has no desire to be with anyone bu Elena. Together they share a love that is deep and true even if there is danger to come.
Both characters were great in Bound By Night. I loved how Drake treated Elena like a princess and cared for her well being over his own. Elena handled the supernatural better than most people would have. Her courage was just as great as Drakes, but in her own way.
Again, Amanda Ashley has delivered an amazing paranormal romance that will quench your thirst of vampire lore! I can't wait to see what happens in the next book which is suppose to be based on a character you will discover in this book!
* * * * *
Bound by Night, written by Amanda Ashley is absolutely captivating! It was addictive, dramatic, and best of all, focused on a true love story. I would tell myself that it was time to go to bed, and after just one more chapter, I would put it down until tomorrow... 5 or 6 chapters later I'd finally resign and put it down. But the next morning it was right back in my hands. I was so glad to see that there will be another book following this one. Amanda Ashley is an exceptional writer, her stories only get better with each new book she puts out. I always recommend her books, and you won't be disappointed with Bound by Night.
Book Reviews by Crystal
5 Hearts
* * * * *
So this is my fifth book review for Amanda Ashley. While this wasn't my favorite, my favorite being A Darker Dream, it was at the top of the books I've done for her that held me so emotionally rapt. Many of the happenings in this novel were so realistic that I couldn't help feeling the full spectrum of emotions carried throughout the novel.
One thing that stood out for me with this book is the new vampire lore features Mandy included. One of those features is sheep and I don't mean the cute little farm animals. I mean the human kind that vampires would "farm" in order of maintaining their appetite for blood. I have never read or seen of this in any other vampire movie or book, and trust me I've been through enough! The other feature is that of the aging process of humans living off of vampire blood. It's sort of like a vampiric blood "Fountain of Glory."
Another thing that I immediately picked up on was the use of the names Elena and Cullin. I know that Mandy is a hard-core fan of both Twilight & The Vampire Diaries. I am wondering if Elena wasn't inspired by The Vampire Diaries, and Cullin (different spelling) from Twilight? Or is it just merely a coincidence?!
I found it extremely hard to not jump ahead and find out what happened. Although what I didn't find hard was just how much I despised Tavian Dinescu's character. In all of the books read for Mandy, I have never had a monster mortal or immortal in them that has caused me such intense disgust for. I found myself way more aggravated and upset with a fictional character than I ever have been in any reading from any author to date.
Steven
Full review
here